BIO-3
Anaesthesia Monitor BIO-3 (No longer available)
EKG-Gerät BIOSCOPE-C und Puls-Oximeter
The equipment is indicated by the combination of a pulse oximeter and a separately usable (removable from the monitor) BIOSCOPE. Pulse oximeter and BIOSCOPE are united to a small compact monitor. The monitor could be used as a desktop model or fasten at an infusion stand by a tripod holder.
The anaesthesia monitor BIO-3 is for battery operation only and has a changeable accumulator. The operating time with a fully charged accumulator is about eight hours. The battery will be recharged outside the monitor in a special charger. So a recharged battery can always be held in stand-by.
The monitor BIO-3 is not developed for bed-sided use. It is suitable for operations while medical specialist staff is in the proximity and can directly react to a triggered alarm.
Application range
for ambulatory use and small surgery
alarm function for SpO2 and heart rate
acoustic and optical signal for heart rate
independent of the mains, therefore also suitable for mobile use
prepared for separation of the BIOSCOPE-C from the monitor i.e. to use the BIOSCOPE-C separately
Standard accessories: ECG patient cable, Oximeter finger sensor, powerful rechargable battery, high quality charger, tripod holder
Optional accessories: BIOSCOPE-AI: adapter for ECG recording, BIOSCOPE-DI: adapter for PC (RS232) incl. software BIOTREND
Matchless favourable price by integration of the emergency ECG unit BIOSCOPE-C which remains available outside the monitor as well.
Important: No longer available! Service for BIO-3 is continued.
Please note: The orig. battery is no longer available! An equivalent rechargeable battery (NiMh) is available. Please ask for information.
Please send an email to sales@recomedical.com to ask for pricing.
Operating instructions and software updates you will find here:
Documents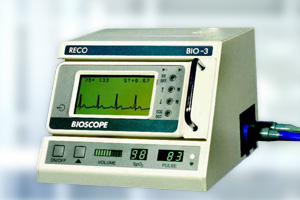 Specs

ECG by BIOSCOPE-C
One-channel recording
Suppression of mains hum
Bandwidth
0.5 … 40 Hz (3dB)
Time constant
0.33 sec.
Input impedance
2 MOhm
Sensitivity
0.25 … 8 mV
(automatic level control in 4 steps)
Marking of pacemaker pulses
Heart-rate range
25 … 240 bpm
Instant heart rate
displayed on the LCD screen
Average heart rate

displayed by the LED display
in case ECG is not connected the
averaged pulse rate will be displayed (finger sensor)

ECG memory
max. 11 min.
Alarm limits
adjustable:

LO: 25 …100 bpm
HI: 60 … 250 bpm

SpO2 by Pulse-Oximeter
Oxygen saturation, measuring range
50 … 100%
Oxygen saturation, accuracy

80 … 100%: ±2%
60 … 80%: ±3%
lower than 60%: not specified

Alarm limits
adjustable 60 … 95% (low limit value only)
Bar display
for quality of pulse signal
Pulse rate range
35 … 230 bpm
Sensor

universal hinged finger sensor for adults
or tongue sensor for veterinary medicine
other sensors optional (i.e. for children)

General
Power supply
battery powered, rechargeable battery 8V (LCS-218P or LC-S082R1PG)
Operation time
uninterrupted operation about 8h
Electrical safety, The monitor BIO-3 agrees with:

EN 60601-1 (03.96), defi protected,
class IIa acc. MDD 93/42/EEC
about medical products (06/93), CE 0123

Dimension
approx. 160 x 180 x 120 mm (W x D x H)
Weight
approx. 1.75 kg (incl. BIOSCOPE-C and battery)
Modifications reserved.