BIOSCOPE-C
BIOSCOPE-C (Currently not available)
Pocket-size ECG monitor
Range of application:
Emergency service
Out-patient visits
Pacemaker check-up
Special features
The BIOSCOPE is easy to use. By integrated 3-point electrodes the ECG can be detected on the patient's chest. By using the cable adapter it is possible to use a patient cable.
There is a memory capacity of up to 11 minutes and the stored information can be retrieved by displaying it on the screen of the BIOSCOPE.
By means of an optional analog adapter (BIOSCOPE-AI) or a digital adapter (BIOSCOPE-DI) respectively the stored ECG can be transmitted to an external ECG recorder or to a PC. In the later case the software BIOTREND features extended analysis functions. The BIOSCOPE-C is also used in our Anaesthesia Monitor BIO-3.
Optional accessories: Cable adapter and patient cable, Analog interface for recording the stored ECG's, Digital interface connecting the PC, Software BIOTREND
Currently not available! The service for BIOSCOPE-C is continued.
Please send an email to sales@recomedical.com to ask for pricing.
Operating instructions and software updates you will find here:
Documents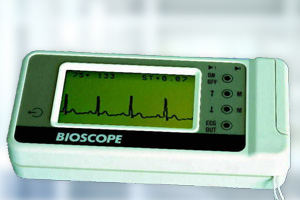 Specs
Lightweight, portable and battery powered (6LR61, 9V)
350g, 152 x 70 x 40 mm
LCD screen for ECG and heart rate
Memory capacity up to 11 minutes
Three recording speeds (25, 50 and 100 mm/ sec)
Automatic adjustment of amplification (0.25 mV … 8 mV)
Display of ST-depression
Detection and display of pacemaker pulses
ECG cable for external (e.g. adhesive) electrodes
Interface to connect standard ECG recorder (optional)
Interface to PC, incl. software BIOTREND for comprehensive ECG analysis (optional)
Bandwidth: 0.5 … 40 Hz (3 dB)
Input impedance: 2 MOhm
Class IIa MDD 93/ 42/ EEC, IEC 60601-1, IEC 60601-2-27 (defi protected by using cable adpter CA-2)
CE 0123