Recomed
Microwave heat therapy device RECOMED 12-200P
Pulsed and continuous operation
Easy to use
Processor controlled
Program memory
High safety standard
For all applications of the high-frequency and heat therapy
About the application of microwave heat therapy
With a good penetration of the fatty tissue especially the underlying muscular tissuebecomes heated. On the other hand there is an additional warming up of the skin and therefore an improvement of the blood flow of deeper lying organs via the cutisvizeral reflex paths.
An universally applicable therapeutic principle that can be easily combined with numerous other therapy forms. An overdose will be prevented by the subjective heat feeling.
Acute illnesses, particularly with inflammable and traumatic symptoms, requires a low dosage at short treatment time.
On the other hand, in chronic illness a higher dosage and a longer treatment time is required. Very low dosages without any heat being felt, so-called athermic dosages, are recommended for treatments of the hormonal system and the RES to improve the endogenous defence system.
An optimal depth effect is achieved through high peak power impulses.
Standard accessories: Holding arm for radiator, Universal radiator, RF connecting cable
Optional accessories: Omnidirectional radiator (diameter 160mm), Omnidirectional radiator for ENT (diameter 65mm)
Please send an email to sales@recomedical.com to ask for pricing.
Operating instructions and software updates you will find here:
Documents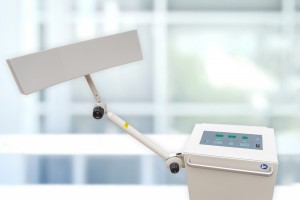 Specs

Power supply:
230 V ±10%, 50 Hz
Power consumption:
max. 700 VA
magnetron:
Metal-ceramic
Nominal frequency:
2.450 MHz ±50 MHz
RF nominal power output:
200/ 25 W Automatic range limit
Pulsed power:
Max 1.250 W
Average power:
5…200 W, selectable in 12 steps
Pulsed operation:
1…50 pulses per second
Treatment time:
1…30 min
Service friendly construction
Cover color:
grey-white RAL 9002
Dimensions:
79 x 40 x 30 cm (h x w x d)
Weight:
44,5 kg
Protection:
Automatic protection function for patient, unit and against faulty operation.
Electrical safety
Protection class 1, IEC 60601-1, class IIb MDD 93/ 42/ EEC, CE 0123
Programming

pulsed operation (P)
Free selectable settings of dosage
continuous operation (C)
5-10-15-25-35-50-70-100-120-150-170-200 Watt
Fixed programs
P-1
10 Watt
5 min
P-2
25 Watt
5 min
P-3
50 Watt
7 min
P-4
70 Watt
10 min
P-5
100 Watt
10 min
P-6
150 Watt
15 min